Take The Choose Love Pledge
I PLEDGE TO CHOOSE LOVE EVERY DAY
I will find the courage to be grateful when life is not easy,
to forgive myself and others,
to cut the cord that attaches me to pain,
and to step outside of the busyness of my life to help others.
That is how I will Choose Love,
and embrace the empowering lesson that it is my choice.
I WILL CHOOSE LOVE INSTEAD OF HATE AND PROLONGED ANGER.
Right now and every day,
I will choose to replace an angry thought with a loving thought.
I understand that things are going to happen in life that I cannot control,
but I CAN control how I respond to those things, and that's what matters.
I understand that my response is what shapes me and molds me into the person I become.
I pledge that although I can't always choose what happens around me, I can always choose how to respond.
And I will be aware of my ability to choose my thoughtful response of love.
Because responding in love is the most powerful choice I can make.
YES, I PLEDGE TO CHOOSE LOVE!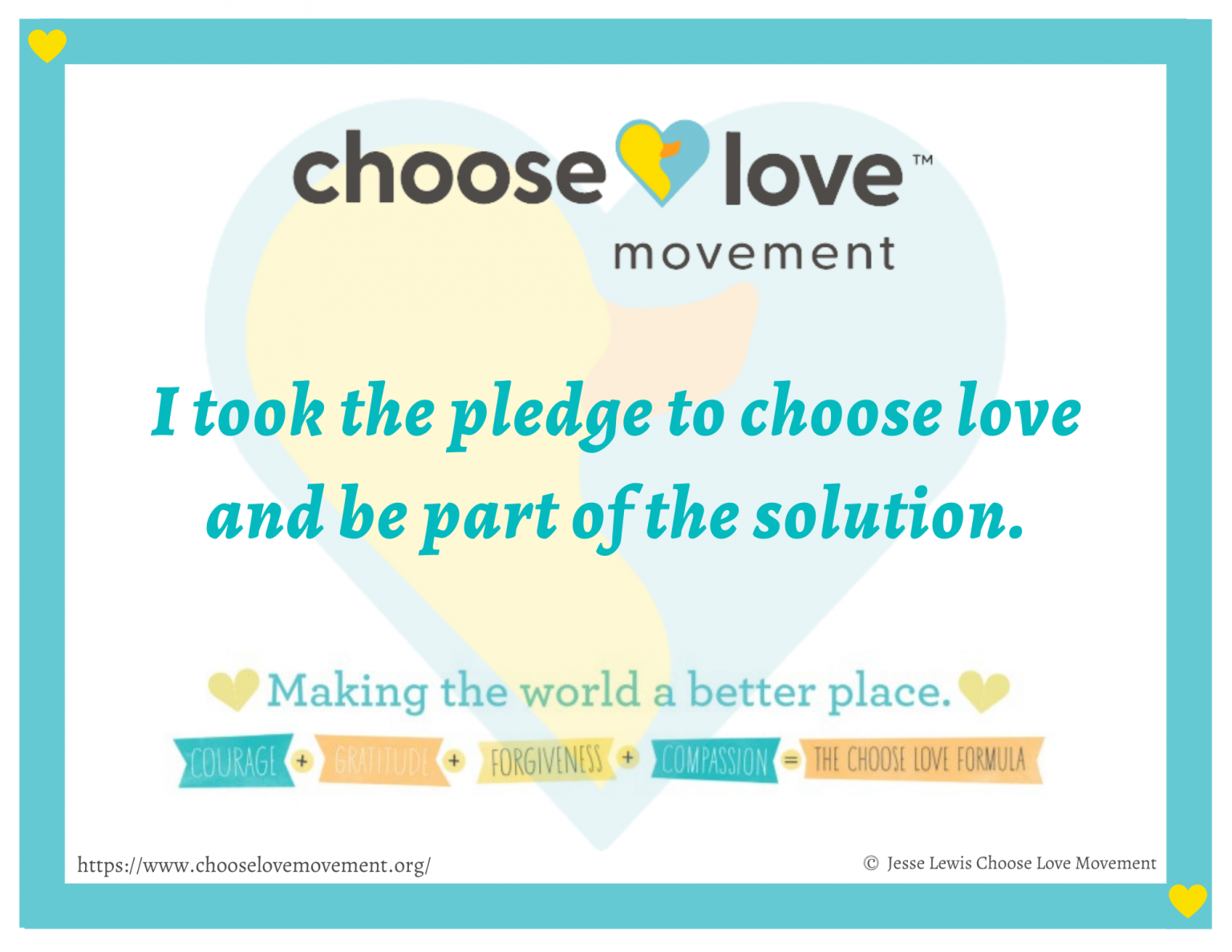 Make an Impact and Start a Ripple Effect of Choosing Love
• Make a pledge to have the Courage to Choose Love instead of Hate and Anger!
• Like the Choose Love Movement on Social Media and follow us!
• Spread the message of Choosing Love on Social Media!
• Right this moment, replace an angry thought with a loving thought!
• Reach out to someone who could use a little love and compassion in their life!
10 years ago the unthinkable happened. My son Jesse was murdered at Sandy Hook. But he left a message that pointed the way to a solution. It led me to create the Choose Love Movement. More than three million people have engaged Choose Love since then to live happier, healthier, and safer lives. But we are only getting started.
– Scarlett Lewis
We offer Choose Love because we know that the world is a better place if every person, every school, every community Chooses Love. So much has been accomplished over these past ten years, but imagine if we could double the number of people who choose love next year. Imagine if we could have 25 million people involved in Choose Love by 2025. It's a movement – and in the next 10 years, we will change the world.
It Starts with You! Join the Movement Now!